Digitally Enhanced Math Learning with the Great Minds® Digital Platform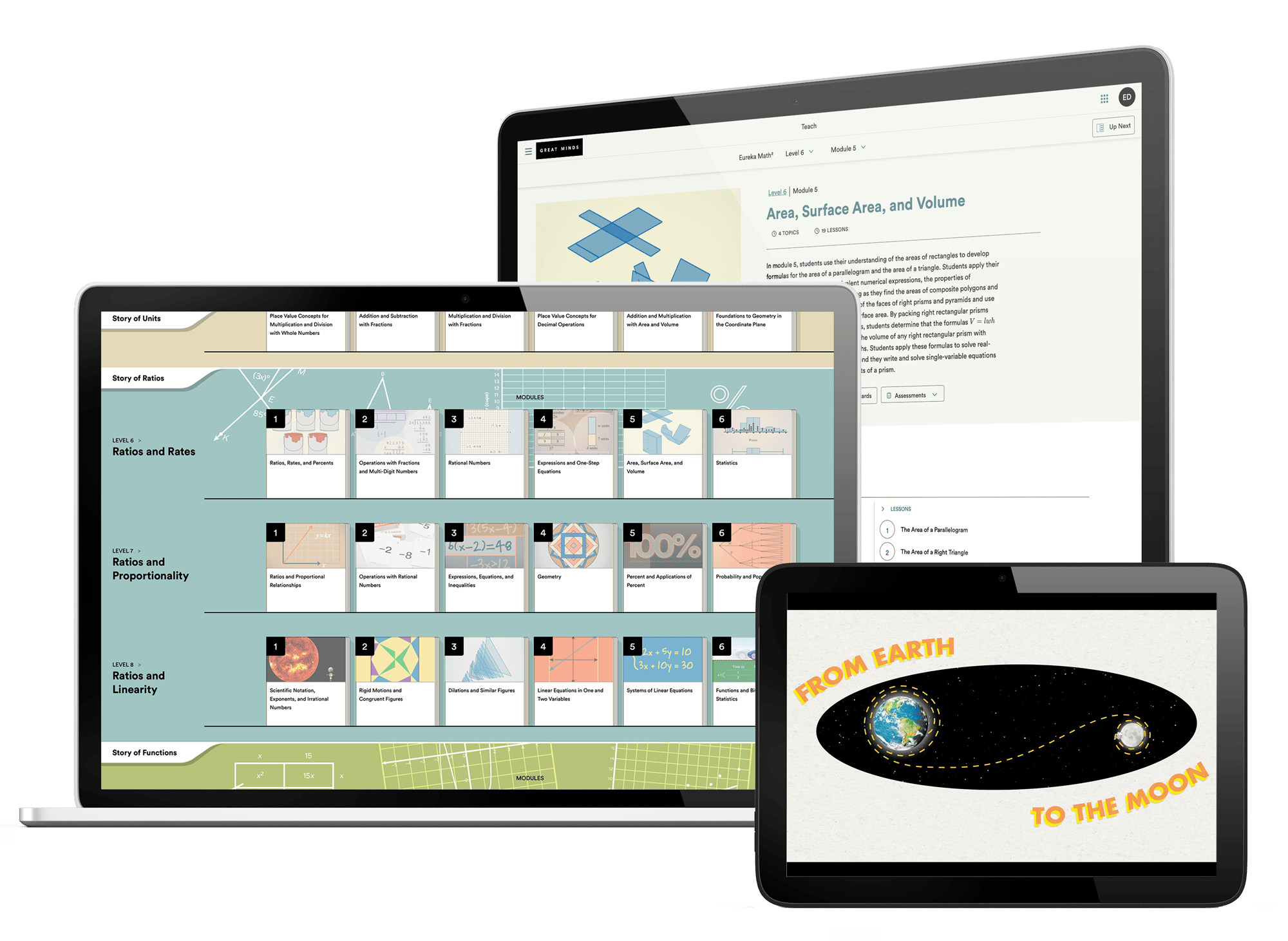 Hands-On Learning with Eureka Math² Technology
Eureka Math2® seamlessly integrates technology into lessons to support teachability and foster student engagement. Through the Great Minds® Digital Platform, teachers can access facilitation slides, Teach book content, and assessments while students can interact with digital manipulatives, digital interactives, and more. Whether projecting on a whiteboard or working on student devices, the Great Minds Digital Platform brings math to life in tangible ways for every student.
Review the curriculum to gain access to the full set of student and teacher materials, including the Great Minds Digital Platform.
There's exponentially more to Eureka Math2 than can fit on the pages of a book. That's why we organized the Great Minds Digital Platform into four key spaces: Teach, Assign, Assess, and Analyze.
Teach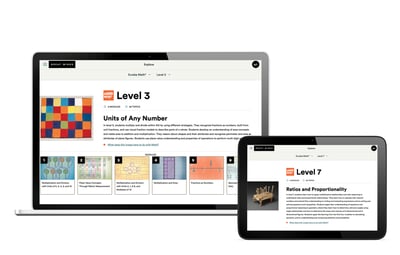 The Teach space offers all of the content available in the Teach, Learn, and Apply print materials, as well as additional resources such as lesson slides, tools for facilitating digital lessons, and lesson annotation tools.
Each

Eureka Math

2

lesson across all grade levels provides lesson slides to streamline facilitation. The slides include context videos, teacher-led interactives, demonstrations, key visuals, problems, and pages from the

Learn

book.

Teachers in Grade Level 6–Algebra I can facilitate the dynamic, student-led digital lessons by monitoring student work, adjusting pacing, and elevating opportunities for meaningful mathematical discourse and aha moments.
Assign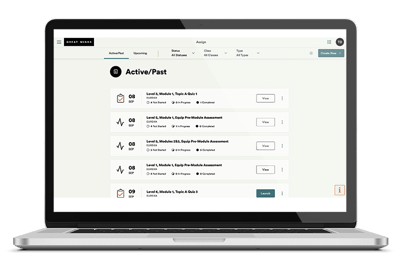 The Assign space gives educators powerful tools for distributing assignments and analyzing student work. Here educators can do the following:
Track, manage, monitor, review, and score all class assignments.

Create assignments by using any artifact in the

Eureka Math

2

resource library.

Launch assessments and view and monitor progress on assigned assessments and score and analyze completed assessments.
Assess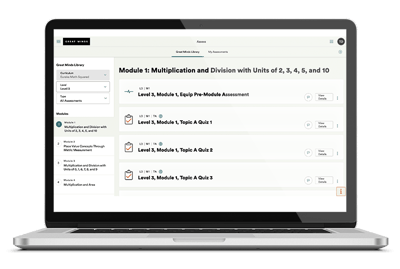 The Assess space is where educators can easily view and manage Eureka Math2 digital assessments, including Topic Quizzes, and Module Assessments. Eureka Math2 Equip Pre-Module Assessments and Benchmarks are also available here if your district has purchased premium assessments. In this space, assessments can be duplicated and adjusted to customize for student needs, and multiple assessments can be assigned at once. Learn more about Eureka Math2 Assessments.
Analyze
The Analyze space is where educators can view reports and insights for classes, assignments, and students. The Analyze dashboard provides an overview of completed assessments, while detailed reports offer insights into class performance on assessments, individual student performance, and performance against standards.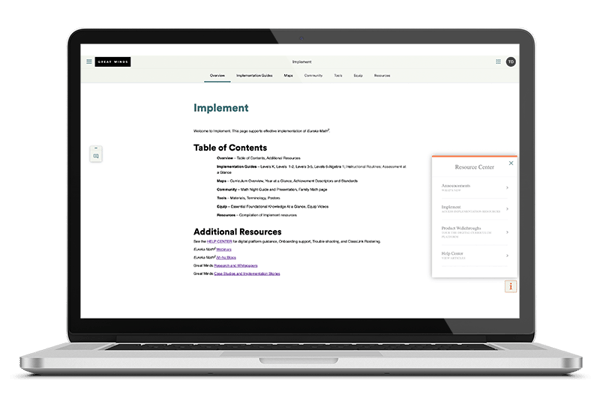 Implementation Support
Support is built right into the platform with the resource center, easily accessed through the icon on the bottom right of the screen. The Implement page, which houses implementation guides, curriculum maps, and other useful tools from our writers, is also available here.
Whether interacting with digital content or reviewing assessment data and feedback, students can find everything they need for success on the student platform. Students in Grade Levels 6–Algebra I also participate in interactive digital lessons designed to encourage exploration, discussion, and engagement. For these lessons, students use their own devices in flexible groupings. Digital lessons are part of the module's sequence of lessons and have objectives that advance key learning.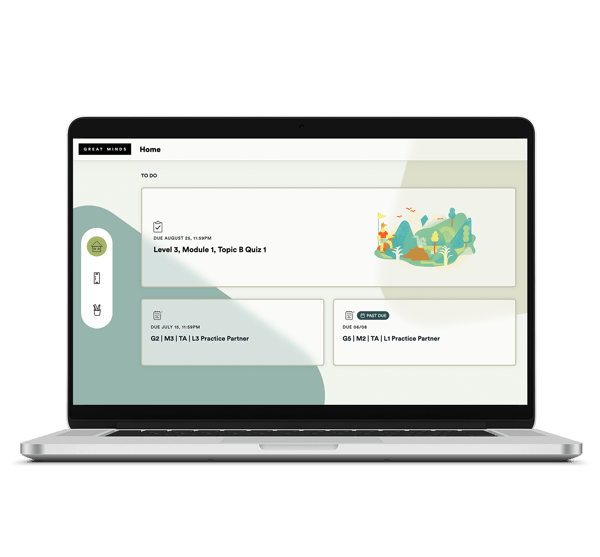 Home
In the Home section, the student's to-do list shows all of their assigned work on one convenient screen. Students can also follow along with the lesson on their own devices with the projected slides.
Locker
In the Locker, students can find and review their completed assignments and assessments, and when reviewing completed assessments, students can see their score and any teacher feedback.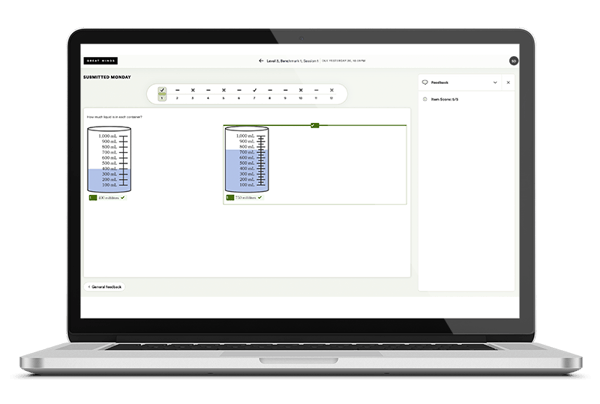 Locker
In the Locker, students can find and review their completed assignments and assessments, and when reviewing completed assessments, students can see their score and any teacher feedback.


Learning Tools Interoperability (LTI) Integrations
The Great Minds Digital Platform allows for LTI integrations and Single Sign On (SSO) with several popular Learning Management Systems (LMS). Rostering can also be completed using OneRoster, Clever, and ClassLink. SSO is currently available for Google, Clever, and ClassLink. Read our Rostering and Integration Overview, or learn more about rostering and optimizing the digital platform for use with the following:
Technical Requirements
Check out more information on technical requirements for the optimal student and teacher experience.
Need More Help?
For additional support with onboarding, contact your Digital Implementation Specialist or Local Representative. Check out our wide range of professional development for additional learning from our team.