Professional Learning
Support from a trusted colleague.
Your Greatness Is Their Greatness
We know that with the proper support, high-quality instructional materials can transform teaching and learning. That's why our team of teacher–writers craft all of our professional development and why we make sure educators with math teaching experience lead each session.
Great Minds® is the exclusive provider of professional development written and delivered by the creators of Eureka Math2.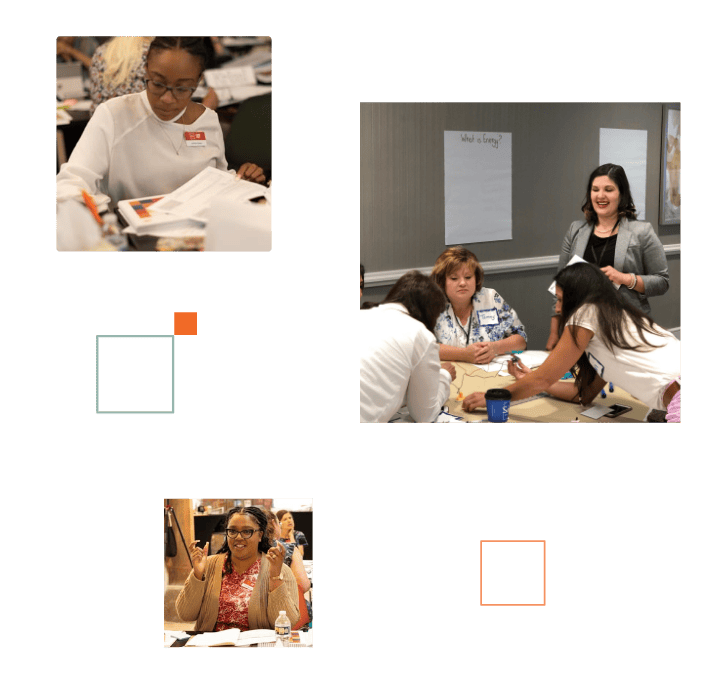 Professional Development
Our in-person and virtual professional development includes sessions for teachers and leaders. These sessions support strong initial implementation as well as sustained success.
Professional Coaching
Through modeling and observation, Great Minds professional coaching helps teachers improve implementation and help leaders develop effective ways to support, understand, and evaluate day-to-day classroom practices.
RECOMMENDED LEARNING PLAN
Implementing Eureka Math with Fidelity

To set educators up for success with Eureka Math2, our team of teacher–writers have created the two-year plan below integrating both professional development and personalized coaching so all teachers can feel confident with the curriculum. Because we know that when teachers feel prepared and well-versed in the curriculum, students thrive.
Year 1: Building a Foundation
PD Workshop Sequence
SUMMER

(before implementation)
Lead: Facilitating Successful Implementation
Launch: Bringing the Curriculum to Life
Power Up: Transitioning to Eureka Math2*
*This session is recommended for Eureka Math users in place of the Launch session
---
FALL
Teach: Effective Instruction with Eureka Math2


---
SPRING
Assess: Embedded Opportunities to Inform Instruction
Profesional Coaching
SUMMER

(before implementation)
---
FALL
Personalized Coaching Track
---
SPRING
Personalized Coaching Track
Year 2: Sustaining Growth
PD Workshop Sequence
SUMMER
Adapt: Optimizing Instruction
---
FALL
Inspire: Discourse, Engagement, and Identify
---
SPRING
Profesional Coaching
SUMMER
Personalized Coaching Track
---
FALL
Personalized Coaching Track
---
SPRING
Personalized Coaching Track
Hear from educators who previously attended a Great Minds Professional Development session


The best way to address inequities is to provide teachers with high-quality, grade-level materials like Eureka Math, plus the skills and ongoing support to implement the curriculum effectively.
Francisco Villegas
Vice President of School Transformation Partnership for Los Angeles Schools
I feel that my planning will be greatly impacted which will certainly affect my instruction. With the session's information, I know how to plan more effectively using the three-step process of discerning the plot, defining the ladder, and honing the lesson.
Prep & Customization of a Lesson Attendee
I will look more closely and thoughtfully at the content before I teach it. I will also now be on the hunt for things that are new and different through the eyes of my students.
Launch Eureka Math Attendee
GET STARTED
Complete this form to learn more about Professional Learning from Great Minds