Affirm® Onboarding
For schools and districts that have chosen to sync rosters using Clever, all administrator, teacher, and student accounts are created based on your district SIS, and the following directions do not apply. Please reach out to our partner Edulastic, or visit the Edulastic Training Hub article for more details about Clever sync.
For schools and districts that have chosen to roster manually, follow the steps below to get your school administrators, teachers, and students set up to use Affirm.

DISTRICT ADMINISTRATOR ACCOUNTS ARE CREATED BY EDULASTIC
District administrator accounts have been created for you according to your onboarding form. If additional district administrator accounts are required, you may create those from your account.
To access your district administrator account:
Visit www.greatminds.org/affirm and use the following credentials:

Username/Email: your school email address
Password: welcome

Once logged in, change your password by clicking on your username on the bottom left corner, and clicking "My Profile."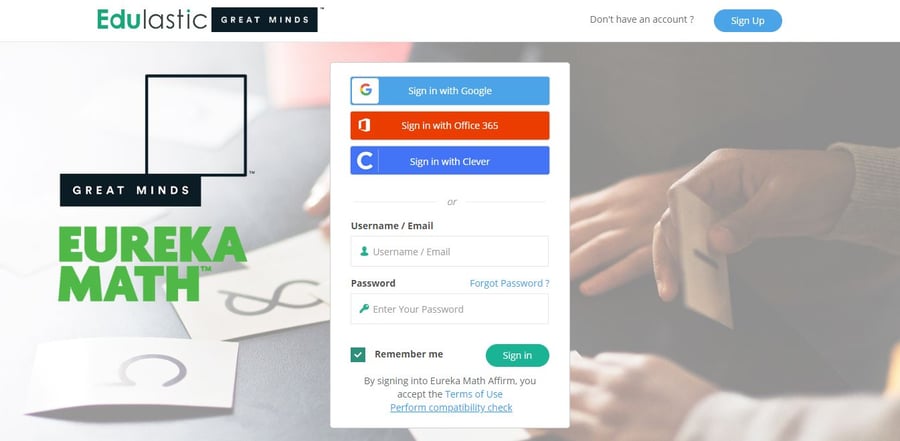 DISTRICT ADMINISTRATORS CREATE SCHOOL ADMINISTRATOR ACCOUNTS
School administrator accounts must be created by district administrators. School administrators will be able to manage their schools accounts and see assessment data from their own school.
To create a school administrator account:
Log into your account using your email address and password
Click on "Manage District" on the left navigation panel
On the Manage District page, click on the "Users" tab
In the second row, click on "School Admin"
Click on the blue "+ School Admin" button
Provide the administrator's name, username, password and the school he/she is an administrator of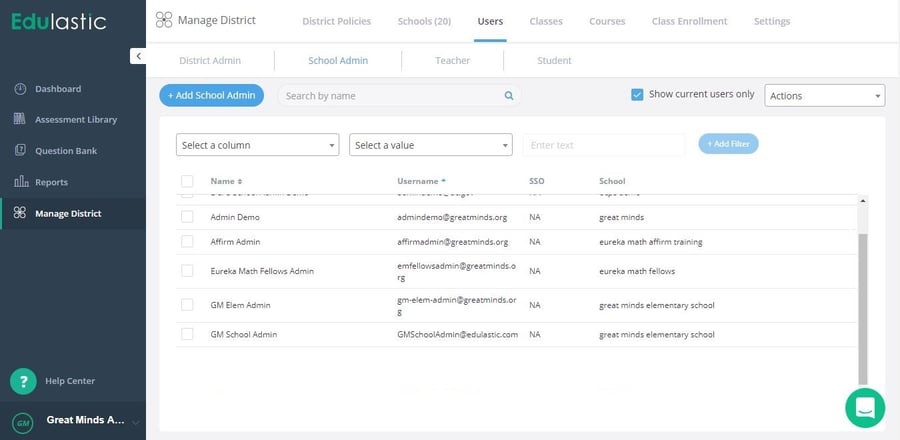 ADMINISTRATORS INVITE TEACHERS TO CREATE THEIR ACCOUNT (OPTIONAL)
Administrators can send invitations from their account to invite teachers to create their accounts in Edulastic.
To invite teachers to create their account:
Click on "Manage District" on the left navigation panel
On the Manage District page, click on the "Users" tab
Click on "Actions", then "Invite Multiple Teachers" on the top right corner
Paste a list of teacher email addresses to send the invitation to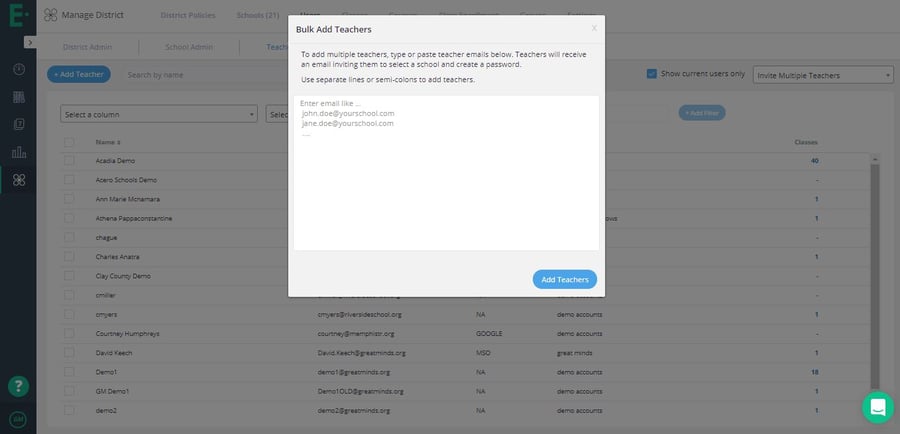 TEACHERS SIGN UP FOR THEIR OWN ACCOUNTS
Teachers can create their own accounts to access Affirm. School and district administrators can also create teacher accounts if desired, although it is a manual process.
To create an account, teachers need to:
Click "Sign up" on the top right corner of the page
Select "I'm a Teacher"
Sign up with Google, Office 365, or your school email address
Select your school
Specify your grade(s) and subject (Math)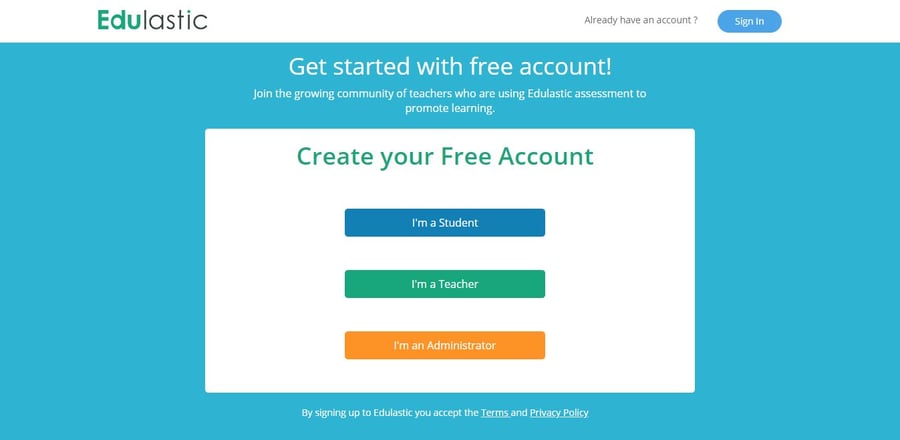 TEACHERS CREATE CLASS ROSTERS AND STUDENT ACCOUNTS
There are three ways for a teacher to create a class and add students to it. They can sync with Google Classroom, manually upload students to a class, or have students create their own accounts and join using a class code.
To upload your class rosters:
Login to your teacher account
Click on "Manage Class" on the left navigation panel
Select "Sync with Google Classroom" or "Create Class"
Fill in the relevant class and student information