Schools across the country are using beautiful Navajo rugs to teach elementary-school students about shapes and a classic painting by Paul Klee to teach second graders about patterns. They're part of a vanguard of educators who are proactively using great art to help students learn mathematics, appreciate art, and connect the two disciplines.
Wondering why? The question we should be asking is why not?
We know a curriculum that builds students' background knowledge, not just their basic subject-matter skills, improves student learning and enriches their understanding of others and their world.
A well-rounded education isn't limited to reading, writing and math, but should include history, science—and art. These subjects are important in their own right, and not surprisingly, they strengthen students' reading, writing, and math skills. They're also squeezed out of the school day in many communities, and we need to find creative ways to weave them back in, but not at the expense of core subjects. Integrating them is a good option.
We know students learn by reading but analyzing a classical piece of music or an iconic painting is just as legitimate instructionally and sometimes more compelling. It can help them see and think about math in the world around them—in art, music, nature, and their everyday lives.
The instructional practice of asking students to discuss what they notice and wonder about a piece of art is especially beneficial. Even students who are not yet reading at grade level or might be reluctant to talk about math can focus on and discuss a piece of art with their classmates. They may share their observations about the art content, technique, subjects, artist, time period, colors, and/or the mathematics. Teachers are often amazed at their insights, while students build their confidence.
My colleagues and I use art everywhere—deeply embedded in literacy, math, and science materials. It's not a common approach, but it's an idea supported by experts.
David Coleman, the lead architect of the Common Core State Standards, called for such integration in this article: "Meaningful appreciation and study of works of art begins with close observation. The Core Standards in Literacy similarly describe reading as the product of sustained observation and attention to detail." While Coleman referenced literacy here, he could just as easily have mentioned math or science; they also require close observation.
When my colleagues and I developed EngageNYMath, the PK-12 curriculum for New York state, in 2012-13, we included fine art on the covers of the national edition of the materials. When New York teachers first saw the new materials at a workshop, they couldn't stop talking about them. The latest edition of our math materials goes well beyond cover art to embed art into every lesson. It's now a key instructional tool for classroom teachers.
In kindergarten, for example, teachers show a cropped picture of a Navajo blanket and ask students how many rectangles they see in two of the blanket's patterned rows. They might say 10 (the large shapes) or 30 (including the embedded shapes). They might say they see 4 black rectangles and 10 small rectangles. The idea is to get them seeing and talking about rectangles.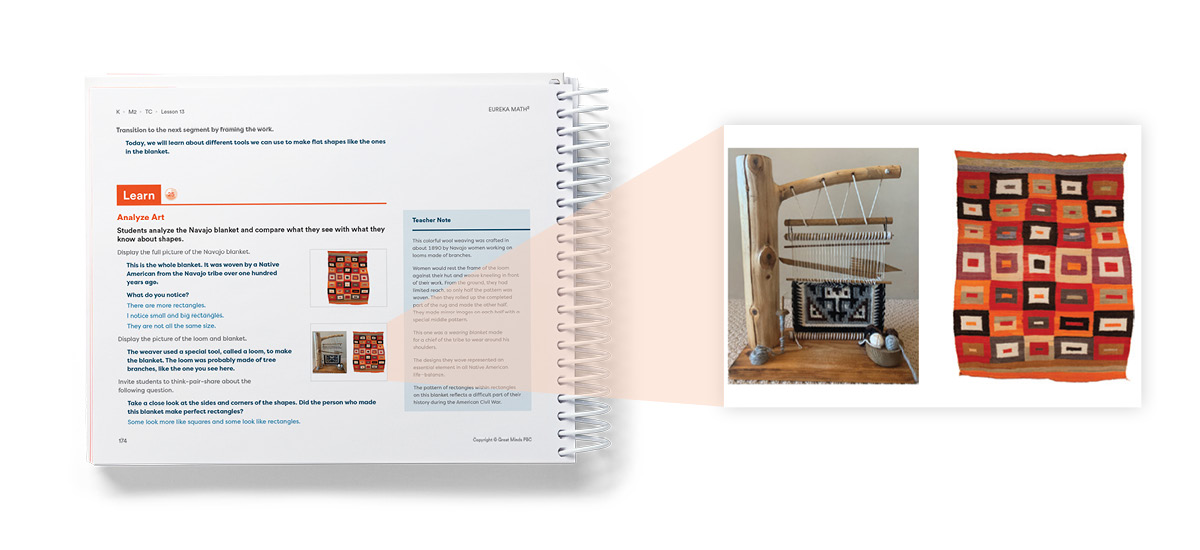 From there, they look at the whole blanket while learning a bit about Navajo culture and the art of weaving (remember, all instruction should be building knowledge!). Students are invited to a think-pair-share activity where they are asked, "Did the artists make perfect rectangles?" They learn that artists like weavers use curved lines and rounded edges to make shapes but that mathematicians must be more precise, which is why they use straightedges to create shapes. Students then use a straightedge (maybe a wooden block) to begin tracing polygons, which is an important step in learning to use appropriate tools strategically.
Older students can look at "Castle and Sun" by Paul Klee to study patterns, discussing the effect of describing an array by rows or by columns, for example.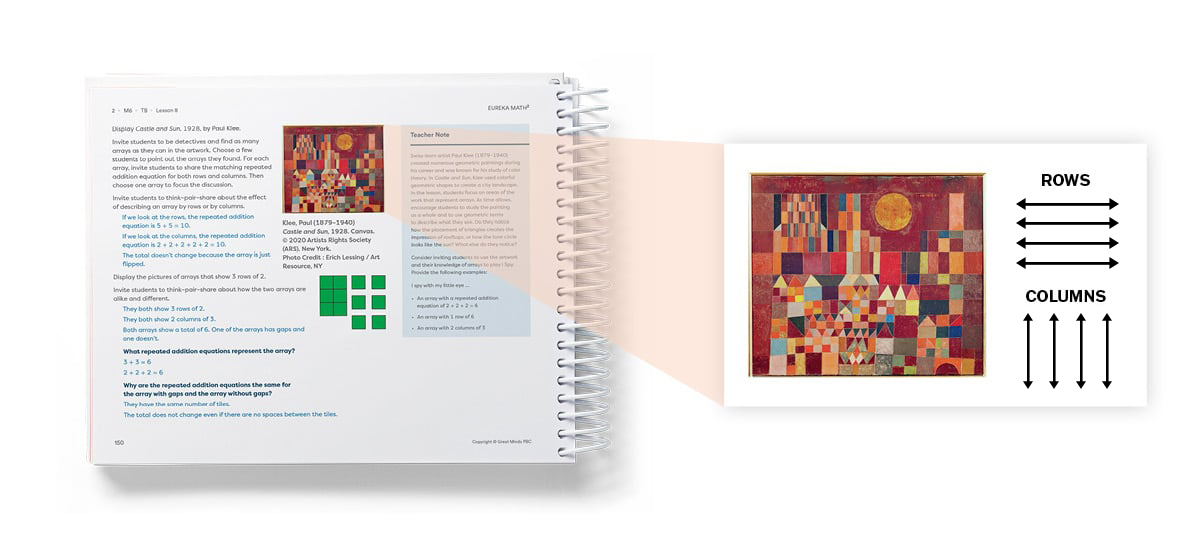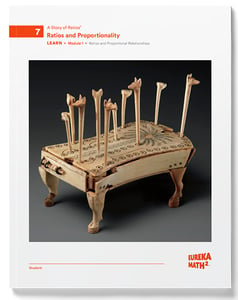 Further up the grades, students notice and wonder about a photo of an ivory fifty-eight holes board discovered by Howard Carter in Egypt in 1910. Students can use a tree diagram to determine the probability of an outcome when playing the ancient Egyptian game called Hounds and Jackals, using knucklebones.
In a world increasingly dependent on visual media to communicate meaning, it is essential to teach students visual literacy. That doesn't have to happen only in art class. And it shouldn't. Making connections across disciplines is a powerful way to build knowledge that makes sense and sticks. Through intentional exposure to great works of art in math class, or during other subjects, students build understanding, appreciation, and awareness of the ways in which elements of visual language influence people and the world of ideas. This knowledge will help them in school—and in life.
Lynne Munson is the CEO and founder of Great Minds PBC, the developer of Wit & Wisdom® ELA, Eureka Math 2™, Geodes® books for emerging readers, and PhD Science®. She lives with her family in Richmond, Va.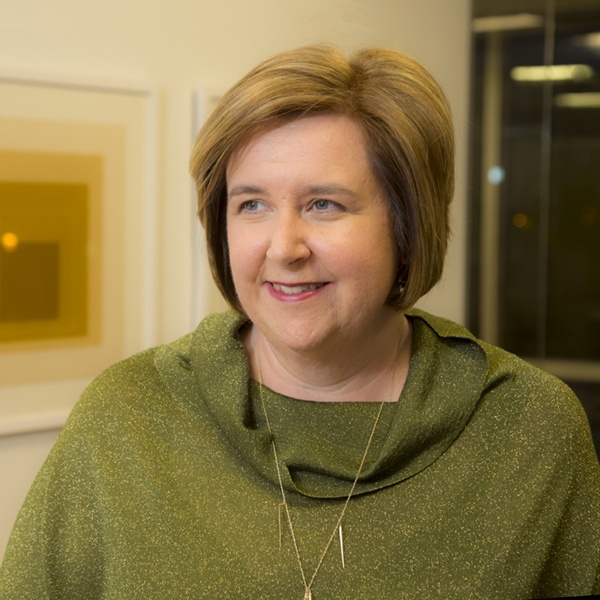 Lynne Munson
Lynne Munson is the founder and CEO of Great Minds.
Topics: math Fine Art knowledge building