This Month's Focus
At Great Minds®, the Humanities team stays updated with the current scientific research on literacy. We bring research to life in our curricula and make it accessible to educators in posts like these. In this month's blog post, Hannah Dieter and Tanisha Washington provide a brief history of the science of reading—and preview upcoming posts that will tie this research to the work of Wit & Wisdom educators.
What Is the Science of Reading?
The phrase the science of reading describes the body of scientific research that informs what we know about literacy development and how to support it. The Reading League, a national non-profit dedicated to evidence-based reading instruction, defines the science of reading this way:
The science of reading is a vast, interdisciplinary body of scientifically-based research about reading and issues related to reading and writing.
This research has been conducted over the last five decades across the world, and it is derived from thousands of studies conducted in multiple languages. The science of reading has culminated in a preponderance of evidence to inform how proficient reading and writing develop; why some have difficulty; and how we can most effectively assess and teach and, therefore, improve student outcomes through prevention of and intervention for reading difficulties.
Because of this vast and growing body of research, we know more than ever about how literacy develops. By diving deep into the research, educators are better able to support their students' progress toward literacy.
Representations of the Science
Two seminal models highlight the complex interplay of knowledge and skills required for literacy development. As new understandings develop, researchers continue to build on these models.
The Simple View of Reading
Almost 40 years ago, Gough and Tunmer (1986) developed a simple formula to show what researchers were beginning to understand: Successful readers must decode and comprehend.

In the simple view of reading (SVR), reading comprehension (R) is the product of decoding (D) and language comprehension (C). The authors argue that if students can decode and comprehend, they can read. Students struggle if one of these factors is missing, and teachers must determine if students need interventions focused on decoding, on comprehension, or on both.
Scarborough's Reading Rope
In 2001, Dr. Hollis Scarborough, a psychologist studying early language development, created a model to show a more complex view of reading. She used a rope as the visual metaphor to show the elements of language comprehension (the top five strands) binding to the essential skills of word recognition (the bottom three strands) to form the strong reading rope.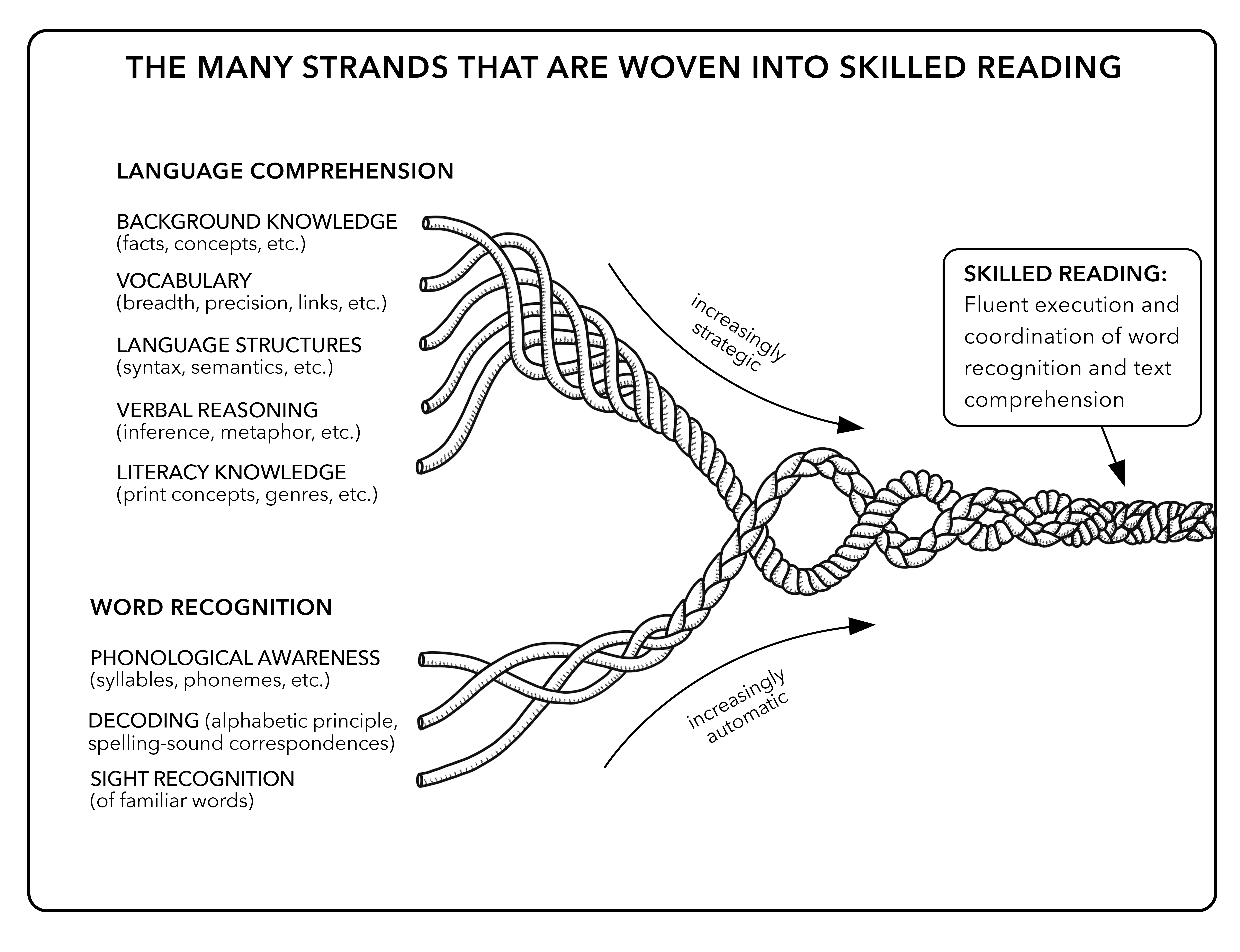 Image courtesy of Dr. Hollis Scarborough, 2001.
Each model informs the other. Recently, the SVR authors expanded the terms decoding and comprehension to use Scarborough's more encompassing phrases language comprehension and word recognition. And, like the SVR equation, Scarborough's rope provides insight for those seeking to understand reading difficulties. A young reader cannot become a skilled reader if a single strand is weak or if the strands are not interwoven tightly in increasingly strategic and automatic ways.
Evolving Models
Researchers continue to expand on these two models as advances in neuroscience and cognition studies further develop the field's understanding of literacy.
In 2021, Duke and Cartwright proposed an updated model: the active view of reading. This view, they propose, goes into greater detail to help educators pinpoint specific causes of reading difficulty and identify targets for literacy instruction.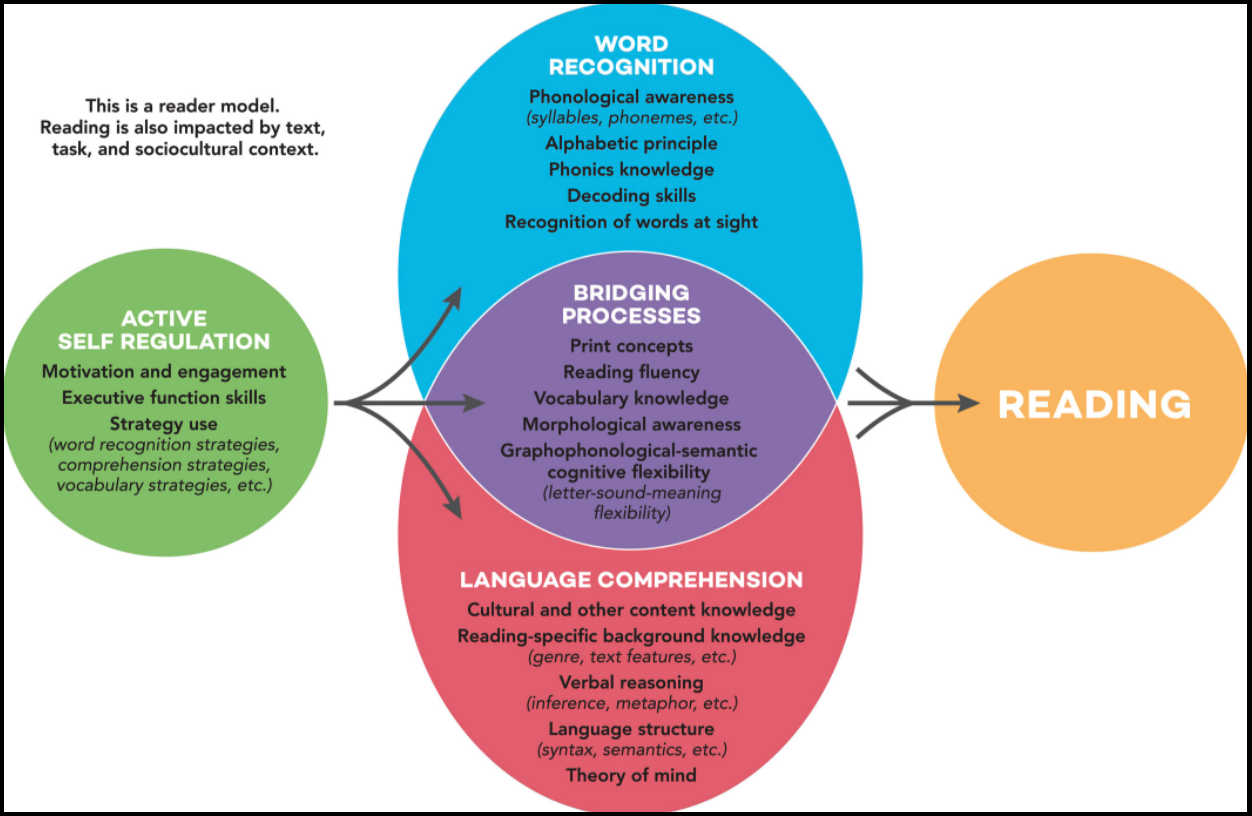 Duke, Nell, K. and Cartwright, Kelly, B. (2021). The Science of Reading Progresses: Communicating Advances Beyond the Simple View of Reading, Reading Research Quarterly, pages S25-S44 (https://creativecommons.org/licenses/by-nc-nd/4.0/)
With their updated model, they seek to solve shortcomings of the earlier models—to better show the processes that bridge word recognition and language comprehension; to highlight the role of self-regulation in reading; and to expand on the elements, including concepts such as theory of mind.
Implications for Educators
Understanding the essential elements of each of these models helps educators align instruction and assessment with the research. By aligning instruction with the science of reading, teachers can provide students with opportunities to increase their automatic word recognition skills and build language comprehension through wide and varied reading experiences. There is no truth to the adage that students learn to read in kindergarten through grade 2 and then read to learn starting in grade 3. Even the youngest readers must learn to read while reading to learn.
Great Minds is committed to creating curriculum that helps all students become automatic, strategic, and skilled readers. To that end, Wit & Wisdom builds students' knowledge and language comprehension skills (the top half of Scarborough's Rope) from kindergarten through grade 8. And we recommend that all students in the early grades learn from an explicit, systematic foundational skills program that helps them strengthen those strands at the bottom of the rope. Geodes® offers a bridge (similar to the bridging processes described by Duke and Cartwright) between word recognition and language comprehension strands.
What's Next?
In the coming months, the blog will feature posts from Great Minds partners—many that will offer advice on how to lead through the instructional shifts that the science of reading requires. The blog will also offer practical tips from teachers on how to implement a curriculum aligned with the science on language comprehension.
In the meantime, check out the following resources.
Read these books on the science of reading and its implications.
Dehaene, Stanislas. Reading in the Brain: The New Science of How We Read. Penguin Books, 2010.
Seidenberg, Mark S. Language at the Speed of Sight: How We Read, Why So Many Can't, and What Can Be Done About It. Basic Books, 2017.
Wexler, Natalie. The Knowledge Gap: The Hidden Cause of America's Broken Education System—And How to Fix It. Avery, 2019.
Listen and learn.
The hosts of the Melissa and Lori Love Literacy podcast interview educators and researchers about the science of reading, knowledge building, and high-quality curriculum.
Read more at greatminds.org.
Works Cited
Duke, Nell K., and Kelly B. Cartwright. "The Science of Reading Progresses: Communicating Advances Beyond the Simple View of Reading." Reading Research Quarterly, vol. 56 (S1), 2021, pp. S25–S44, https://ila.onlinelibrary.wiley.com/doi/epdf/10.1002/rrq.411.
Gough, Philip B., and William E. Tunmer. "Decoding, Readability, and Reading Disability." Remedial and Special Education, 7(1), Jan/Feb 1986, pp. 6–10.
Scarborough, Hollis S. "Connecting Early Language and Literacy to Later Reading (Dis)Abilities: Evidence, Theory, and Practice." Handbook of Early Literacy Research, edited by Susan B. Neuman and David K. Dickinson, Guilford Press, 2001, pp. 97–110.
The Reading League. Science of Reading: Defining Guide, 2022, https://www.thereadingleague.org/what-is-the-science-of-reading/defining-guide-ebook/.
About Hannah Dieter
Hannah Dieter is a director of implementation services on the Humanities team at Great Minds. In this role, she leads a team of implementation leaders who support schools and districts across the country with their implementation of Wit & Wisdom and Geodes. Before joining the Great Minds team, she was the director of early childhood education for Lorain City Schools in Ohio. Hannah is also a former kindergarten teacher and instructional coach. She is currently working on her master's in reading science from Mount St. Joseph University in Cincinnati.
About Tanisha Washington
Tanisha Washington is a director of implementation services on the Humanities team at Great Minds. In this role, she leads a team of implementation leaders who support schools and districts across the country with their implementation of Wit & Wisdom and Geodes. Before joining the Great Minds team, she was an assistant principal for a charter school in Washington, DC. As an assistant principal, Tanisha was a member of the 2013 New Leaders' Aspiring Principals program as well as the 2018 Relay Graduate School of Education's National Principals Academy and the 2018 School Leader Lab's leadership cohort. Tanisha is also a former elementary school teacher and has a master's degree in elementary education from American University in Washington, DC.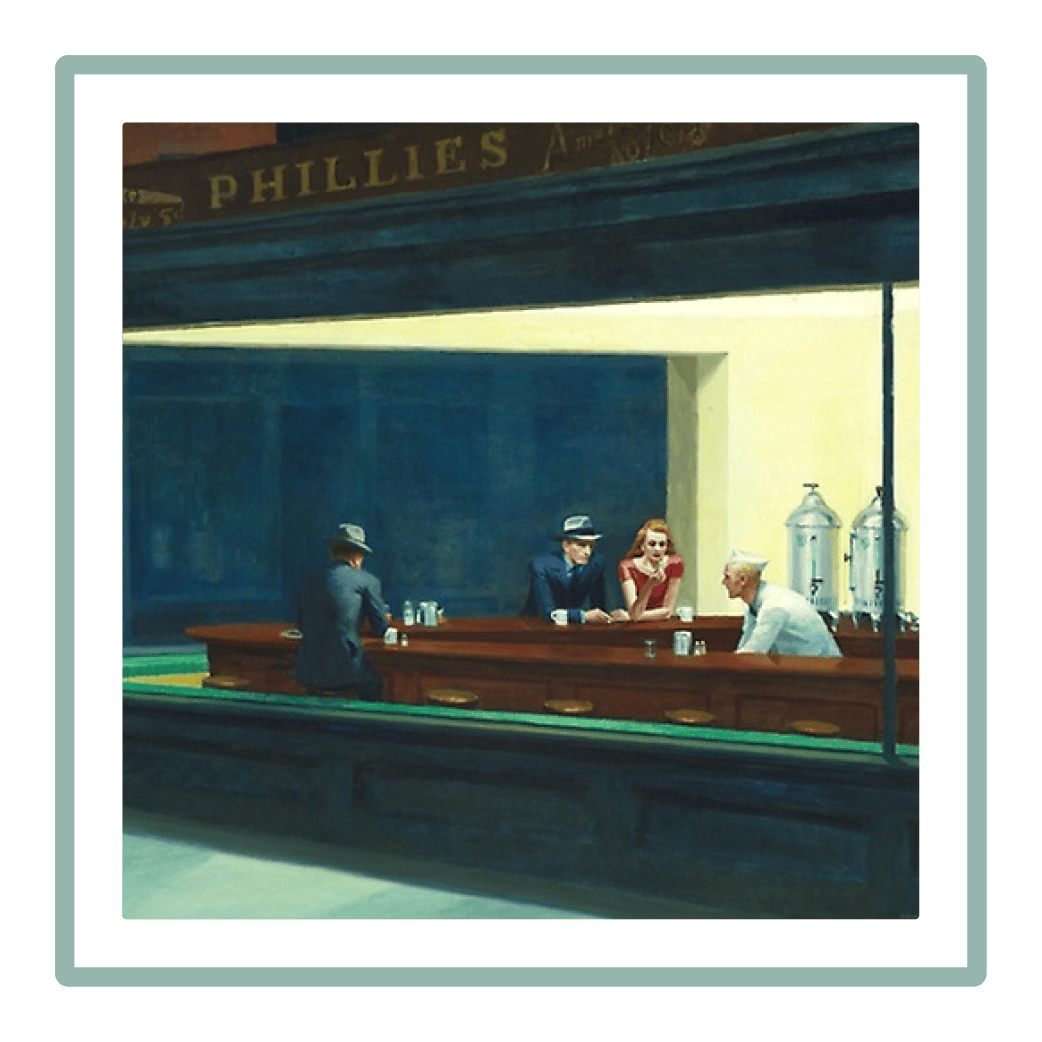 Great Minds
Great Minds PBC is a public benefit corporation and a subsidiary of Great Minds, a nonprofit organization. A group of education leaders founded Great Minds® in 2007 to advocate for a more content-rich, comprehensive education for all children. In pursuit of that mission, Great Minds brings together teachers and scholars to create exemplary instructional materials that provide joyful rigor to learning, spark and reward curiosity, and impart knowledge with equal parts delight.
Topics: Featured Science of Reading