Professional Development
From the teacher–writers of PhD Science®

Created by the team of teacher–writers behind PhD Science, our in-person and virtual professional development (PD) sessions include options for teachers and leaders. These sessions ensure strong initial implementation as well as sustained success.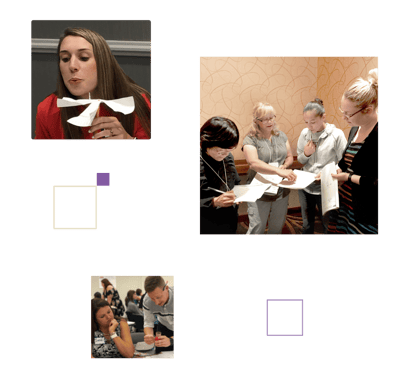 Private Professional Development
Come together with educators from your school or district for an in-person or virtual PD session. Great Minds® facilitators will work with up to 30 participants in each session.

Virtual Open Enrollment
Join educators from around the country for an open enrollment virtual PD session. Designed for 20–30 participants, sessions are led by two Great Minds facilitators.

Looking for modeling and observation of day to day classroom practices? Or to better understand the nuances of the curriculum so you can customize it in your classroom? If so, PhD Science Personalized Coaching might be a good option for you.
CONTINUED SUPPORT
PD to support new implementers and seasoned users of PhD Science



FOUNDATIONAL PROFESSIONAL DEVELOPMENT
Foundational PD sessions build and deepen new educators' understanding of the curricular design and pedagogy of PhD Science. Sessions help both teachers and science leaders learn how to implement PhD Science with confidence.
SUSTAINING
PROFESSIONAL DEVELOPMENT
Seasoned practitioners who have completed the foundational courses can deepen their understanding of the curriculum and strengthen their implementation through this advanced coursework.
Focus on Instructional Techniques II K–5
Focus on Instructional Techniques III K–5
This session deepens educators' understanding of the curriculum's learning cycle, demonstrating the importance of presenting a coherent series of investigations and hands-on tasks that allow students to engage in science before attempting to summarize their knowledge in words or drawings.

---
Focus on Instructional Techniques IV K–5
This session deepens educators' understanding of the curriculum's design, reviews its formative and summative assessment opportunities, and provides guidance for connecting science learning to other content areas.
---
Grade Band Progression
Educators study the progression of learning across a grade band and map the coherence of science concepts.
---


ASYNCHRONOUS PROFESSIONAL DEVELOPMENT
Module Study Series
This video series, hosted on Canvas, orients educators and coaches alike to a module in PhD Science. The series takes a deep dive into the content of the module, detailing the phenomenon-based learning specific to the module.
DOWNLOAD MODULE STUDY SERIES AGENDA (PDF, 168kb)
---
RECOMMENDED LEARNING PLAN
Implementing PhD Science with Fidelity

To set educators up for success with PhD Science, our team of teacher–writers created the three-year plan below, which integrates both PD and personalized coaching so all teachers can feel confident with the curriculum. Because we know that when teachers feel prepared and well-versed in the curriculum, students thrive.
Year 1:
Profesional Development
SUMMER

(before implementation)

Foundational PD Sessions
Launch PhD Science Levels K–5


---
FALL
Foundational PD Sessions
---
SPRING
Foundational PD Sessions
Focus on Instructional Techniques I


---
END OF YEAR
Personalized Coaching
SUMMER

(before implementation)

Personalized Coaching Sessions
---
FALL
Personalized Coaching Sessions
Guided Observation for Leaders
Nurturing a Student-Driven Classroom
Managing a Student-Driven Classroom
---
SPRING
Personalized Coaching Sessions
Guided Observation for Leaders
Pacing for a Student-Driven Classroom
---
END OF YEAR
Personalized Coaching Sessions
Guided Observations for Leaders
Year 2:
Profesional Development
SUMMER/FALL
Sustaining PD Sessions
Focus on Instructional Techniques II
---
SPRING
Sustaining PD Session
Focus on Instructional Techniques III
---
END OF YEAR
Personalized Coaching
SUMMER/FALL

Personalized Coaching Sessions
Guided Observations for Leaders

Discourse for a Student-Driven Classroom
---
SPRING
Personalized Coaching Sessions
Guided Observation for Leaders
Prepare a Lesson Collaboratively
---
END OF YEAR
Personalized Coaching Sessions
Guided Observations for Leaders
Year 3:
Profesional Development
SUMMER/FALL
Sustaining PD Sessions
Focus on Instructional Techniques IV
---
SPRING
Sustaining PD Session
Personalized Coaching
SUMMER/FALL

Personalized Coaching Sessions
Guided Observations for Leaders

Planning and Preparing by Using Checks for Understanding
---
SPRING
Personalized Coaching Sessions
Guided Observation for Leaders
Prepare a Lesson Collaboratively
---
END OF YEAR
Personalized Coaching Sessions
Guided Observations for Leaders
GET STARTED
Complete this form to learn more about Professional Development from Great Minds