Personalized Coaching
From the creators of Eureka Math2
Eureka Math2™ coaches work with school leaders to identify the coaching track(s) that best meet the school or district's needs. Leaders participate in guided observations to identify instructional priorities. Teachers then engage in differentiated sessions that include studying Eureka Math2 and evolving best practices to improve student outcomes.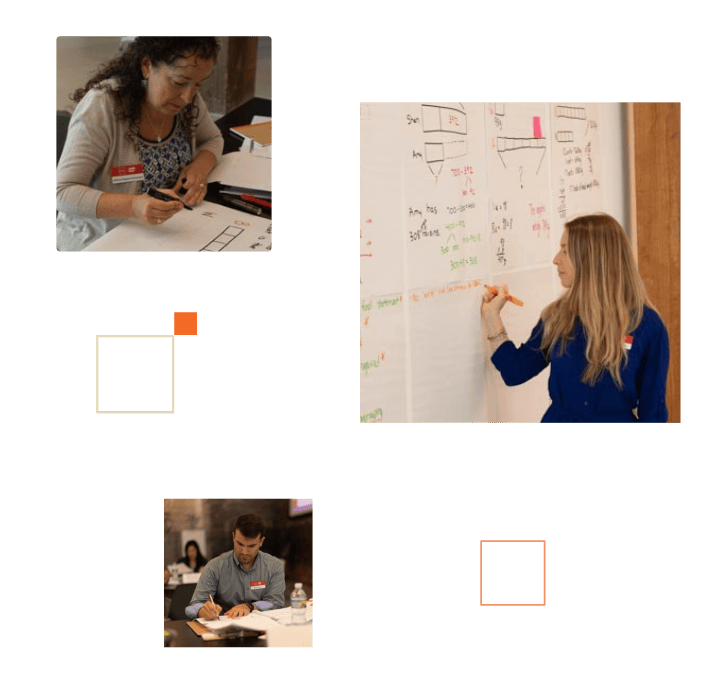 Begin with the Foundational Track of Eureka Math2 Professional Development
These sessions provide teachers and leaders with the foundational knowledge and skills needed to implement Eureka Math2.



Engage Leaders and Teachers in a Personalized Coaching Track
Each personalized coaching track includes 5 coaching sessions. After completing Guided Observation for Leaders, school leaders will collaborate with their Eureka Math2 coach to select the focus for Sessions 2-4 that best aligns with the instructional priorities for teachers.
PROFESSIONAL LEARNING COMMUNITY BUNDLES
Prep for Success
This coaching series maximizes the impact of the components of Eureka Math2 by personalizing the session to the school's instructional priority. Teachers will continue to develop instructional practices for students to make meaning and connections within the story of math.
---
This coaching series focuses on building teachers' understanding of the content and its role in the larger math story. Teachers will engage in a transferable process of studying a module, topic, or lesson along with its connection to previous and upcoming content.
Available in 2023
---

Access Grade Level Content
In this session, teachers will learn about the research-based, just-in-time approach to access facilitated by Equip. Teachers engage in a recommended process for using their class's Equip data reports to plan for responsive teaching of just-in-time skills and concepts for their whole class, small groups and individual students.

Available in 2023
Each Track Includes the Following 5 Sessions
SESSION 1
Guided Observation for Leaders: Priority Setting
In this session, a Eureka Math2 coach guides up to 10 leaders through classroom observations to evolve instructional leadership practices. Leaders deepen their understanding of the impact of purposeful observations through lesson study, collecting data, and setting instructional priorities.
SESSION 2–4
Professional Learning Community
Sessions 2, 3, and 4 focus on offering teachers explicit, personalized guidance from a Eureka Math2 coach to meet objectives based on the coaching focus selected.
SESSION 5
Guided Observation for Leaders: Progress Monitoring
In this session, leaders determine the progress that has been made, gaps that still exist, and trends in their developmental supports. This provides insight towards mastery of the instructional priority established in the first Guided Observation and supported in PLCs and school-based supports.

Enhance Leadership Practices with Level-Up for Leaders
Level-Up for Leaders is a three-part coaching series that includes:
Strategic Planning (3 hours)
Crafting Effective Feedback (90 minutes)
Effective Feedback Conversations (90 minutes)
These sessions provide leaders with the foundational knowledge and skills they need to support teacher development and classroom implementation of Eureka Math2.
RECOMMENDED LEARNING PLAN
Implementing Eureka Math with Fidelity

To set educators up for success with Eureka Math2, our team of teacher–writers have created the two-year plan below integrating both professional development and personalized coaching so all teachers can feel confident with the curriculum. Because we know that when teachers feel prepared and well-versed in the curriculum, students thrive.
Year 1: Building a Foundation
PD Workshop Sequence
SUMMER

(before implementation)
Lead: Facilitating Successful Implementation
Launch: Bringing the Curriculum to Life
Power Up: Transitioning to Eureka Math2*
*This session is recommended for Eureka Math users in place of the Launch session
---
FALL
Teach: Effective Instruction with Eureka Math2


---
SPRING
Assess: Embedded Opportunities to Inform Instruction
Personalized Coaching
SUMMER

(before implementation)
---
FALL
Personalized Coaching Track
---
SPRING
Personalized Coaching Track
Year 2: Sustaining Growth
PD Workshop Sequence
SUMMER
Adapt: Optimizing Instruction
---
FALL
Inspire: Discourse, Engagement, and Identify
---
SPRING
Personalized Coaching
SUMMER
Personalized Coaching Track
---
FALL
Personalized Coaching Track
---
SPRING
Personalized Coaching Track
GET STARTED
Complete this form to learn more about Personalized Coaching from Great Minds