Unstoppable Aha! Moments
Meet Eureka Math in Sync—high-quality digital curriculum created by our teacher-writers to provide flexible math learning for Grades PK–12.
The world has evolved, and we now know that learning can happen in many places and in many ways.

Eureka Math in Sync allows students and teachers to access Eureka Math materials wherever they are, whenever they want, to make knowledge unstoppable. Eureka Math in Sync tools allow everyone to keep moving forward —even when students or teachers miss class. Short, digestible videos convey information from the day's lesson, and fillable PDFs allow students to show their work and communicate with their teacher via annotations and comments.

It's the same consistent, coherent, high-quality curriculum you love, now available for seamless learning.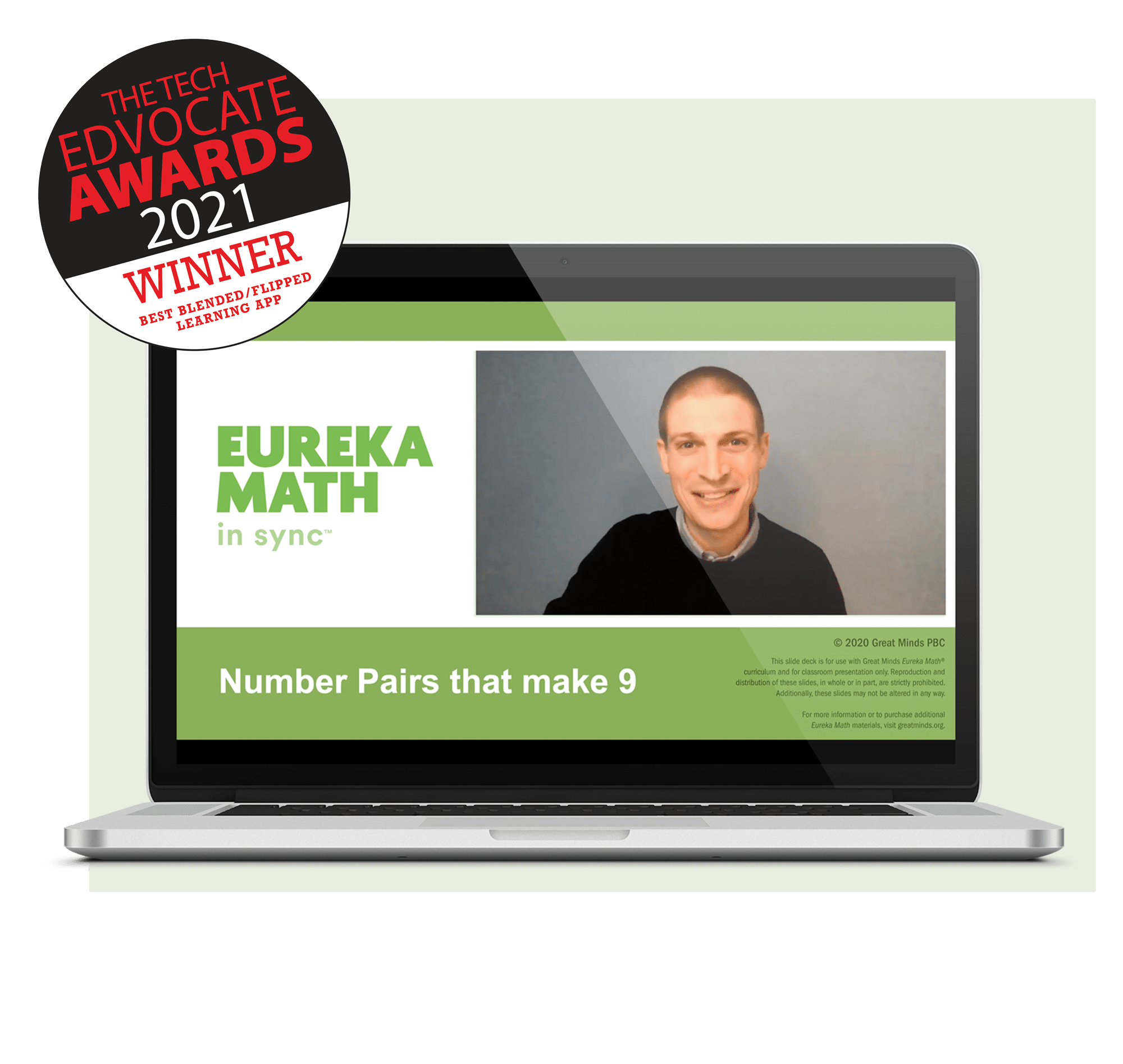 "Great Minds knows that the world looks different now and that teachers and students need access to a high-quality curriculum, no matter where they are learning. So we created a custom product, tailored to fit today's environment. Eureka Math in Sync gives students and teachers the ability to switch between the home and the classroom without sacrificing coherence or collaboration."
—Jill Diniz, Chief Academic Officer, Math


Support Beyond the Classroom
Eureka Math in Sync makes knowledge unstoppable by enabling teachers to continue to inspire students, no matter where they are.
TEACHER SUPPORT

STUDENT SUPPORT

(available in English and Spanish)

Learn Anywhere Plan
A comprehensive plan that guides teachers through pacing when using Eureka Math in Sync digital resources and Eureka Math in the classroom.

Daily Video Lessons
Intentional segments of Eureka Math lessons taught by experienced math teachers, intended to support teacher instruction rather than replace it

Digital Teacher Edition
Complete lesson plans with appropriate scaffolding, all materials in the Student Edition workbook, and answers to each problem and assessment item

Digital Student Edition
Digital classwork, including downloadable and fillable PDFs, that can be printed for home or class use, or completed online

Eureka Math in Sync User Guide
A teacher guide for the Eureka Math in Sync platform that helps support educators with their implementations of the curriculum

Family Guidance
Each topic comes with a Family Tip Sheet with suggested strategies and models, key vocabulary, and tips for how families can support learning at home

Topic Facilitation Slides
Slide decks that include topic-specific content to support the recommended online or in-person facilitated instruction


Virtual Professional Development and Coaching
Facilitator-led session to help teachers learn how to implement Eureka Math in Sync with confidence and support students in a continuous learning model
EUREKA MATH IN SYNC
View Sample Lesson and Supporting Materials
View Sample Lesson and Supporting Materials