NCSM 2023
October 28–31, 2023
Washington Renaissance Hotel
Washington, DC
Visit the Great Minds team at booth #308.
Stop by the Great Minds® booth during the 2023 NCSM Annual Conference to connect with your Great Minds partners and:
preview our curriculum materials,
connect with your local Great Minds representatives, and
enter for a chance to win one of two iPad Air® devices or one of our other exciting giveaways.


Ready to try Eureka Math2® for your school or district?
We are now offering a special Eureka Math2 pilot package that includes everything you need to successfully implement a module of Eureka Math2. Stop by the booth to learn more.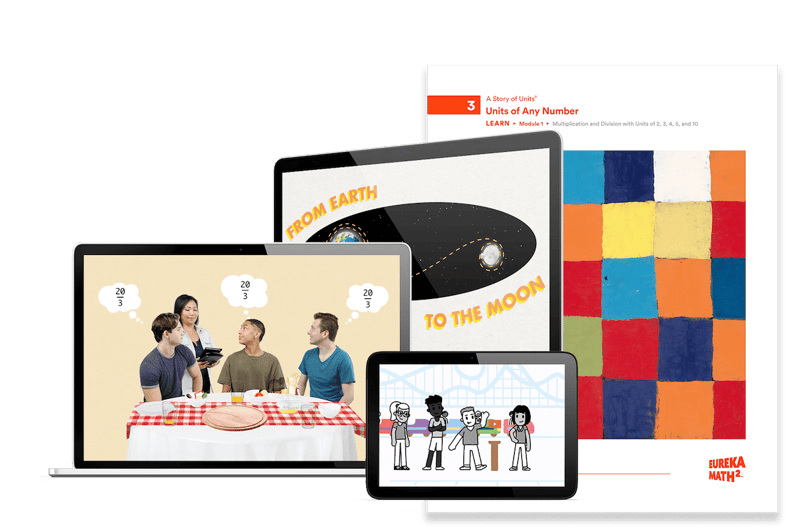 Eureka Math2® is a revolutionary program designed to advance equity in the classroom by helping students build enduring math knowledge. In Eureka Math², you'll still find the consistent math models, rigor to support the productive struggle, and coherence across grades that you love from Eureka Math®. Now, you'll also find digital interactives, increased opportunities for student discourse, and a new level of flexibility to make math instruction exponentially more teachable and engaging.
Sign up to review Eureka Math².
Review our conference resources.
In a recent review by EdReports, Eureka Math² met expectations in all evaluated categories. Read the report.
Not attending NCSM? Fill out this form to connect with us.
Participants will be eligible to receive a swag bag as a thank you for attending our in-booth sessions.
---
Exponentially Greater: What's New in Eureka Math²
Thursday 10/26 | 9:30 a.m.

---
Visibility²: Premodule and Embedded Assessments Reveal Student Understanding
Thursday 10/26 | 10:30 a.m.
Thursday 10/26 | 3:30 p.m.
Friday 10/27 | 10:30 a.m.
---
Student-Centered Learning & Discourse
Thursday 10/26 | 11:30 a.m.
Friday 10/27 | 1:30 p.m.
---
Accessibility2: How Readability, Learning Supports, and UDL Create Entry Points for All Students
Thursday 10/26 | 1:30 p.m.
---
Engagement²: Digital Interactives with Eureka Math²
Thursday 10/26 | 2:30 p.m.
---
Rekenrek Counting
Friday 10/27 | 9:30 a.m.