Eureka Math and Wit & Wisdom Are a Winning Combination
Empowering Teachers and Students and Changing Lives Along the Way
To the leaders of Meeting Street Academy in Charleston, South Carolina, teaching a quality curriculum is a social justice issue.
"Our staff are warriors for social justice," Principal Dirk Bedford says. "One of the reasons we do the work is because we want to change the narrative about what's possible for all kids. In South Carolina, unfortunately, we have a huge achievement gap, and it's only growing. We want to change the expectations for kids like ours and, more importantly, change the expectations for schools like ours."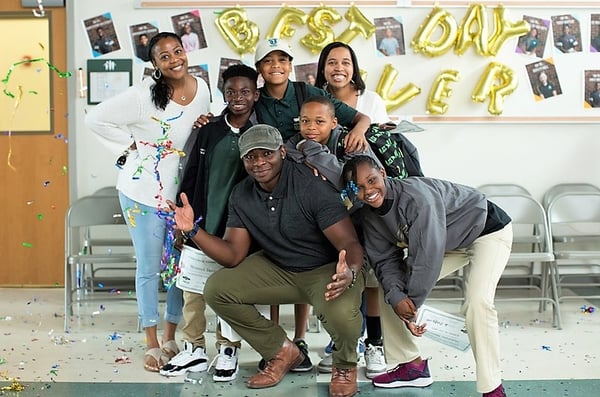 Katie Robinson, director of academics and assessments, adds, "The educational malpractice that happens with kids like ours across our state is really what keeps us up at night. We just can't express enough how much we value having great curriculum."
Test Scores Soar
Meeting Street students are primarily children of color who qualify for free and reduced priced meals. The school introduced Eureka Math™ in 2014 and began using Great Minds'® first English language arts (ELA) program in 2015, followed by its successor ELA curriculum, Wit & Wisdom®, last year. Math and reading test scores have since soared.
Last year, the median score for Meeting Street Academy students was at the 83rd percentile in math on the widely used Northwest Evaluation Association (NWEA) Measures of Academic Progress (MAP) adaptive assessment—up from the 60th percentile in 2014. Meeting Street leaders say only two other schools in their 80-school district performed better: one selective, the other affluent.
Meanwhile, the median score for Meeting Street Academy students was at the 82nd percentile in reading on last year's NWEA MAP, up from the 61st percentile in 2014. Bedford and Robinson say that, although the NWEA test does not measure writing skills, writing is one of the school's biggest success stories.
"We have the highest expectations for what our kids can do," Robinson says. "Our goal is to be at the 85th percentile by the end of fifth grade, and there's not another curriculum out there that will get us there."
In the Beginning
Principal Bedford brought EngageNY Math (the original version of Eureka Math that Great Minds developed for New York State) to Meeting Street when he started there in 2014. Previously, he'd seen firsthand what the curriculum can do in Memphis, where he was a middle school principal. Eureka Math's rigor, coherence, structure, and commitment to serving all students—advanced and striving alike—impressed Bedford, and he and Robinson were determined to use it at Meeting Street, despite the challenge of implementing such an innovative curriculum.
"In the first year, we were all learners," Bedford says. "We were all working together, making a ton of mistakes, and trying to learn from each other as much as possible and as quickly as possible. We were taking one or two days to complete a lesson."
Robinson adds with a laugh, "It felt like it took six months to get through a module."
By the second semester, however, the positive impact was clear. "Teachers were initially worried, saying things like, 'Kids don't know any of this stuff.' In the second semester, they were saying, 'Oh my gosh, I can't believe my kids can do this. I can't wait to do this again next year because it's going to be so much better,'" Robinson says.
That summer, Meeting Street brought in Eureka Math trainers to deliver one of Great Minds' most popular professional development (PD) workshops, Preparation and Customization, which teaches educators how to tailor Eureka Math lessons to students' needs. Today, PD is a priority for both math and ELA. Each summer, Meeting Street educators devote several days to diving in to the curricula and customizing them to meet the specific needs of their students. They especially appreciate that experienced classroom teachers lead the Eureka Math and Wit & Wisdom PD sessions.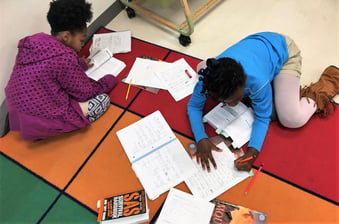 Impact on Students
When it comes to student learning, Meeting Street leaders say, the benefits of Eureka Math and Wit & Wisdom are obvious and go way beyond improved test scores. In math, they point to students' fluency with math facts, mastery of multiple problem-solving strategies, and ability to explain the advantages of those different strategies.
In ELA, teachers talk about students' newfound love of reading and their improved writing skills. Robinson recalls visiting a Grade 2 class with an armful of books.
"I arrived at the door, and the students are all in a line, and I'm walking by them, and they're pulling the books out of my hands because they want to read them," she says. "It was great, because I didn't have a book left by the time I walked to the shelf. I had never experienced that here before."
Robinson says her students have gone from being "compliant readers" fulfilling a requirement to "eager readers" fueling a passion.
And "they're incredible writers," Robinson adds, pointing to examples of student work. "We focus so much on writing in our PD, our one-on-one meetings with teachers, and our grade-level meetings."
The Ripple Effect
Bedford and Robinson say that Eureka Math and Wit & Wisdom have benefited Meeting Street in many unanticipated ways as well, starting with improved student engagement. They elaborate by pointing out that the curricula challenge and push students to think deeply and stretch themselves, which builds confidence.
"I think having the confidence to attack a new math problem, knowing that you have a lot of different strategies in your tool belt, translates into how you solve problems with peers, how you understand a science concept, and even how you solve a challenge on the basketball court," Bedford says. "Students have the confidence to say, 'I can overcome things that are difficult for me if I can think creatively about them.'"
Eureka Math and Wit & Wisdom have also shown students the benefits of reviewing and revising their work. Typically, Bedford says, students race to finish math problems and draft essays.
But with these Great Minds curricula, "one of the things they learn by studying the same question over the course of a module, or the same focusing question in the course of an arc, is to answer the question, do the writing or computing in stages, and then come back to it and revise it, constantly seeking to make it better."
Additionally, switching to Eureka Math and Wit & Wisdom has helped MSA keep its great teachers. Only one of Meeting Street Academy's 50 staff positions turned over in 2017–2018. Plus, Meeting Street ranked second on the 2017 Best Places to Work in South Carolina list—the only school ever to have made the cut.
"It can be a really rigorous and challenging environment, but it is also fun and joyful," Robinson says. She acknowledges that although both curricula can be hard to use at the beginning, "teachers love working here because they know the curricula are giving students the right push to accomplish our big goals."
Want to hear more about Meeting Street Academy's experience selecting and implementing a high-quality literacy curriculum? Watch a recent webinar, Building a Knowledge-Rich Literacy Curriculum, here.