Open Up A World of Wonder
Developed by Great Minds® in collaboration with Wilson Language Training®, Geodes® are rooted in the belief that children can learn to read while reading to learn.
1 to 1 Geodes is designed exclusively for tutors to support your students in practicing key reading skills while building knowledge about the world around them. This collection of texts unite phonics with compelling content and beautiful art, inspiring students to wonder, decode, and build confidence.



High Quality Tutoring Deserves
High Quality Instructional Materials
"I have a student who has struggled emotionally with reading, put in the work, and kept hitting a wall. You could see the anguish on his face each time I placed a book on the table. When I introduced him to Geodes, I suddenly began to notice a change.
One day, we were diving into The Library of Fez to compare it to Library Cat. After our review and word work, I noticed that my student simply picked up the book and started reading. It was so natural. He was practicing the skills we had just reviewed and casually reading a sentence out loud without the emotional load he had previously carried.
Toward the end of each session, I always have an exit ticket question, prompting my students to reflect on their learning. I said to my student, 'Wow, you just dove right into that book and started reading. How did that make you feel?'
He quietly said just one word: 'Happiness.' When he left the room, I burst into tears.
This has been such a challenging year for everyone in so many ways, yet it is also the year that someone discovered that reading is happiness."
Rachel Arnold | Literacy Interventionist
Clayton Elementary School
Englewood, Colorado
What's Inside the Box?
With Geodes' compelling content featuring diverse stories and stunning illustrations, you can create high quality learning experiences your students deserve.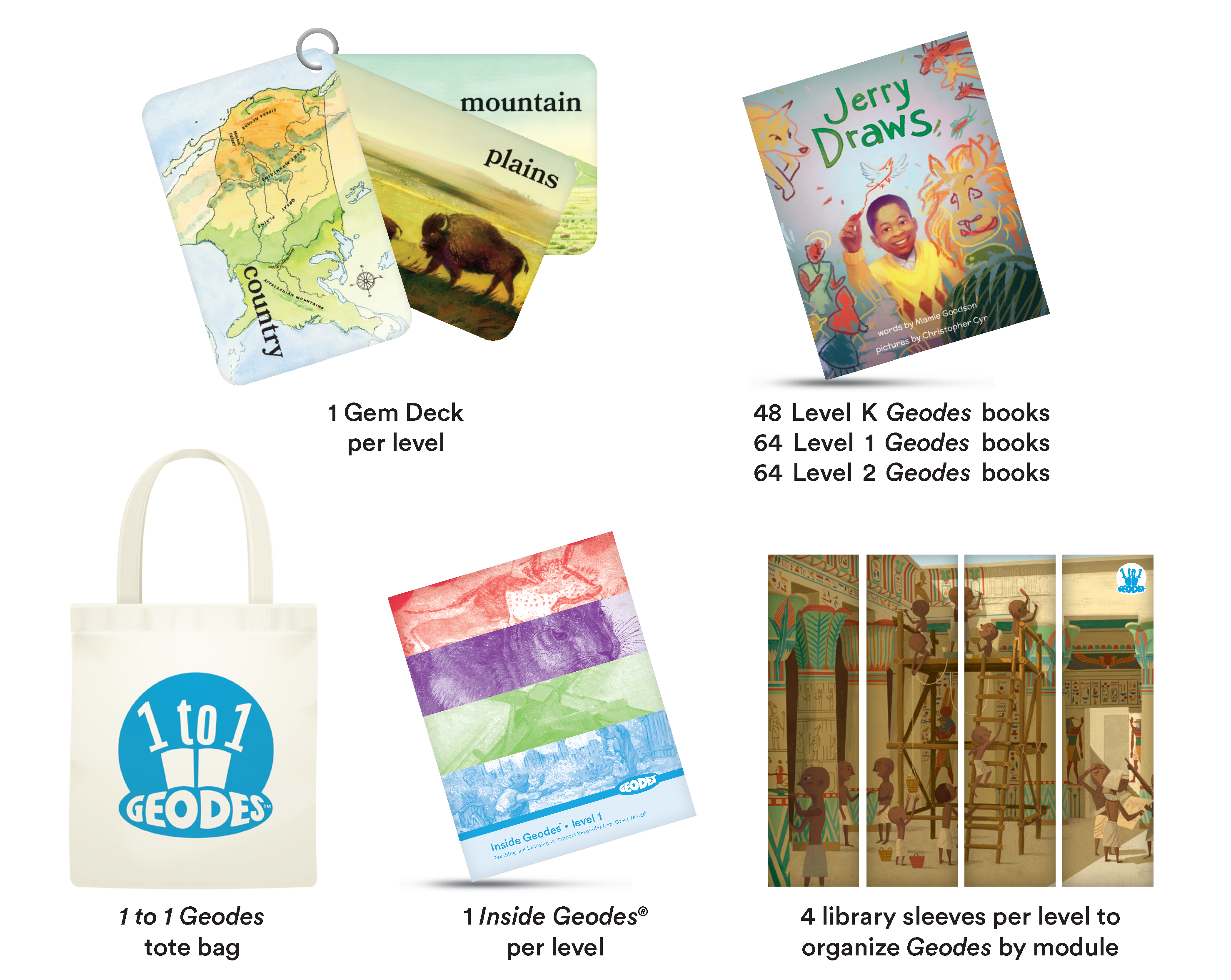 About • Maps • Captions • Labels • Diagrams • Headings • Graphs • Timelines • Call‑Out Boxes
Geodes offer a wide variety of text features intended to be read by an adult. These components provide knowledge-building details omitted from the text because of space limitations or decodability challenges.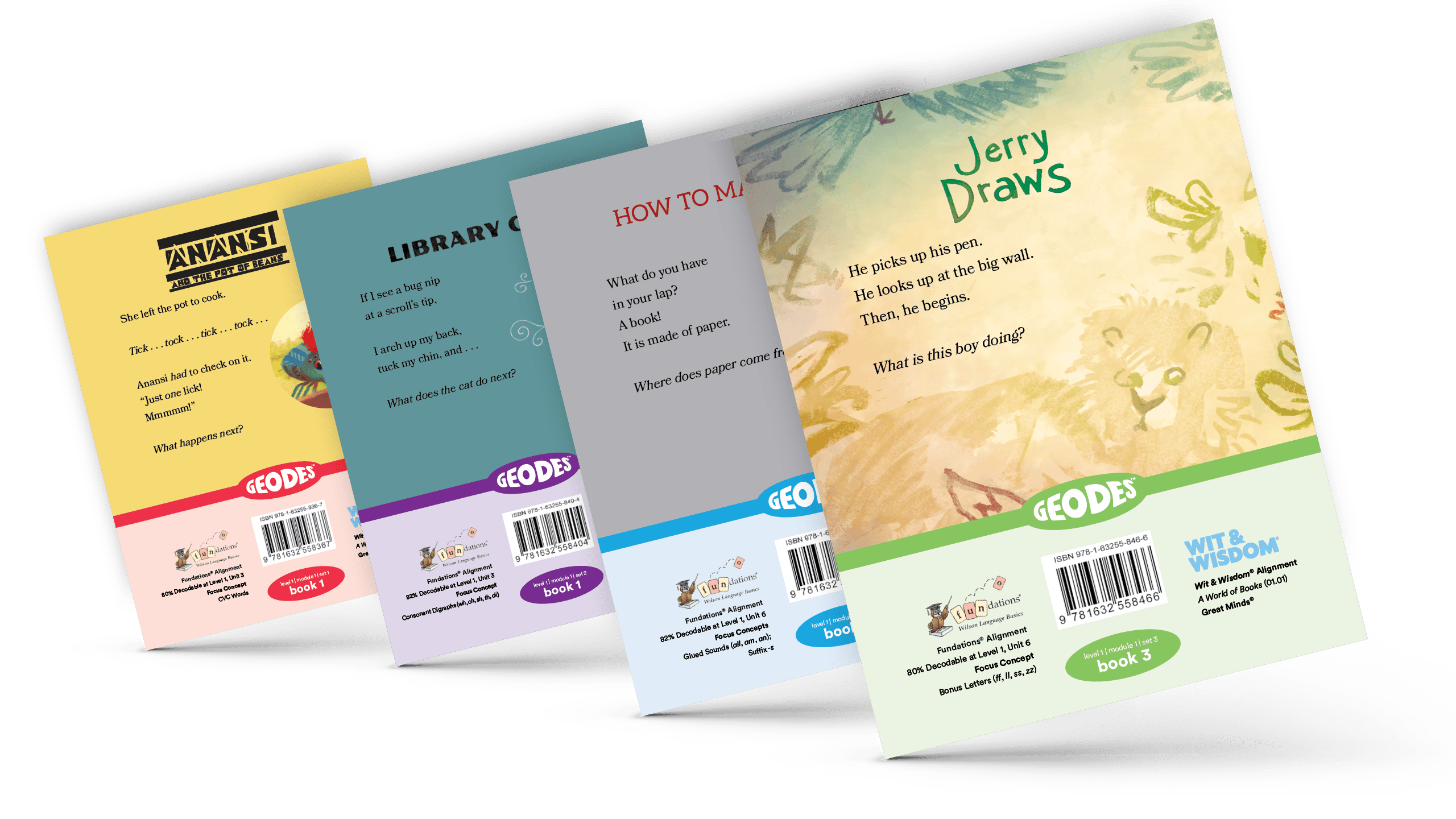 Every book includes a teaser on the back cover offering a preview of the book highlighting an excerpt from the text and featuring a question to develop student curiosity.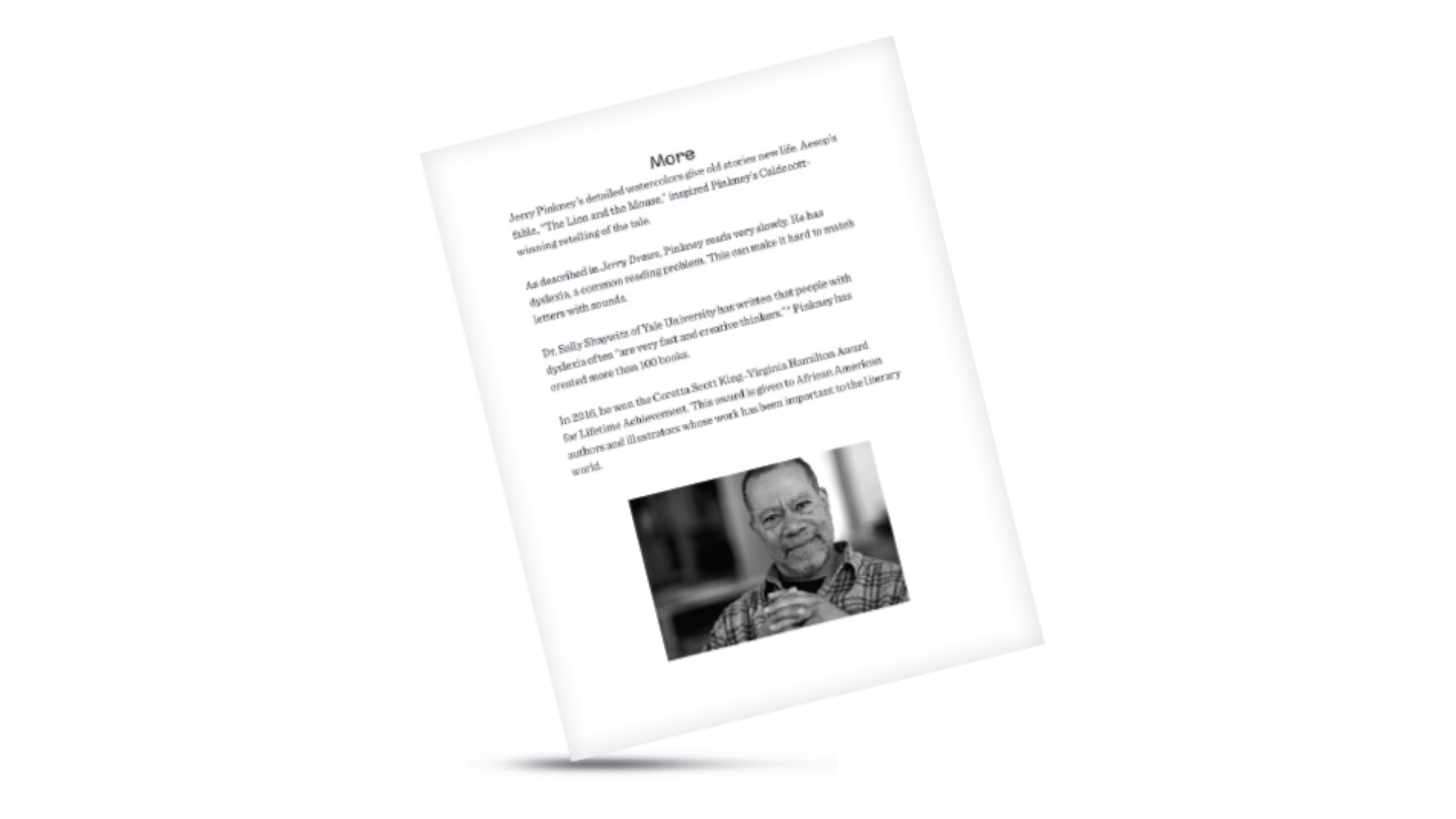 The More section is a short information selection that extends and enhances the information in Geodes. It is designed to be read aloud by a caregiver, tutor or teacher and provides opportunities for further exploration and conversation.
Engaging · Accessible · Knowledge Building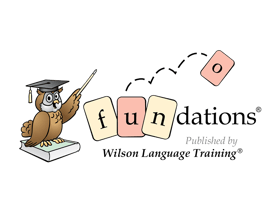 Geodes are accessible, knowledge-building books for emerging and developing readers, aligned with the developmental stages of the Wilson Fundations® foundational reading program. Each book in the collection is designed to cultivate a deep reading experience, enabling students to apply decoding skills while building knowledge in history, science, and the arts.
Switching to Geodes, Wit & Wisdom, and Fundations Already Paying Off
Switching from the CKLA's Grades K–2 curriculum in 2021–2022 to the combination of Wit & Wisdom® (English language arts), Geodes® (content-rich books for emerging readers), and Fundations® from...
Across Oceans, Geodes Make the Grade
Geodes® books are across the pond. Really far across the pond—8,436 miles from creator Great Minds® headquarters in Washington, D.C., to Chiang Mai, Thailand. After weeks at sea and more weeks at a...
Geodes® Help Students Cross the Bridge to Learning
In Geodes®, Ann King has finally found what she's been after for the last 15 years for her students with dyslexia: a set of texts they can read that are actually interesting. "I get tingles when I...